Paragliding
How it feels to fly like a bird?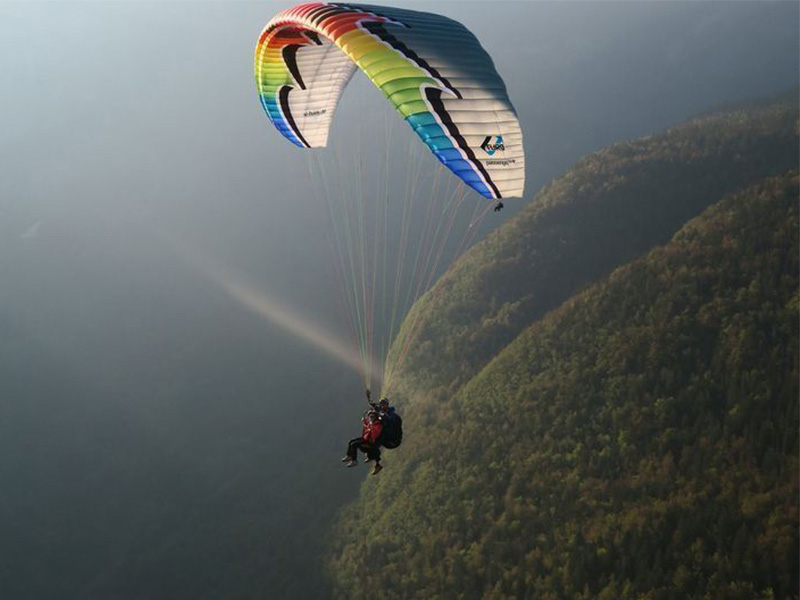 from
EUR 110,00
Paragliding
Tandem paragliding flight is a peaceful experience with the most beautiful view of Bohinj and it surroundings-the lake and the surrounding hills, all the way from Karavanke to the Triglav mountain range. If the weather conditions allow the view can be reached all the way to the sea. Finally, you can feel how birds fly!
Two take off spots are available one is from Vogar (900 m), a hill just above Lake Bohinj and another one from Vogel (1670 m)-local ski resort.
A long lasting photo tandem with a paraglider is a great opportunity to feel the freedom of the sky.
If you have a desire to feel adrenaline you can select an acrobatic paragliding flight.
If this is still not enough for you, you can choose a hard core acrobatic flight-a special acrobatic tandem parachute (scaled, reinforced and in general 'scratched'), a special acrobatic pilot (trained, reliable and crisp) and a special acrobatic traveler (eager 7g, 150 km / h ...)
Or get to know this sport through TOP tandem flights. The TOP program lasts 2.5 hours and includes 40+ min flying time, basic acrobatic program and wing management.
A paraglider will fly in tandem with an experienced pilot or instructor of paragliding. Previous experience for Tandem flights is not necessary. The tandem pilot or instructor will teach you what to do at the take-off site and what on landing.
This is a weather dependable activity. Passengers are comfortably located in the parachute seat in front of the pilot. The take-off is a 10-minute walk along an organized mountain path.
Price:

Tandem Vogar – 110 €/per person
Tandem Vogel – 165 €/per person
Tandem foto ali acro (Vogel) – 185 €/per person
Tandem hard core acro (Vogel) – 220 €/per person
TOP tandem flight (Vogel) – 300 €/per person

Reservation: at least 1 day before activity
Meeting point: Alpinsport, Ribčev Laz 53
Take-off:

Vogar (900 m. n. v.)
Vogel (1670 m. n. v.)

Landing: near Bohinj lake (530 m. n. v.)
Duration:

Vogar - 1 hour (5-10 minutes flight time)
Vogel - 1,5 hours (20 minutes flight)
Tandem photo or acro (Vogel) - 1.5 hours (20 min flying)
Tandem hard core acro (Vogel) - 1.5 hours (20 min flying)
TOP Tandem Flight (Vogel) - 2.5 hours (40+ min flying)

Difficulty: suitable for families
Equipment needed: Hiking shoes, warm clothes